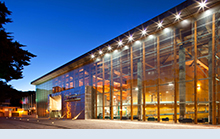 Exhibitor
Cambridge University Press
The Edinburgh Building, Shaftesbury Road
Cambridge, CB2 8RU
United Kingdom

Homepage
Cambridge University Press is a not-for-profit organization that advances learning, knowledge and research worldwide. It is an integral part of the University of Cambridge and for centuries has extended its research and teaching activities through a range of academic and educational books, journals, and examination papers. Visit our stand to browse our latest publications and get 20% off all titles on display.